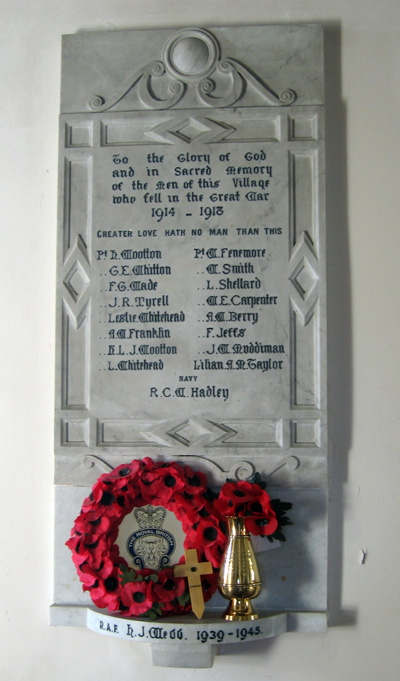 Sulgrave does not have an outside war memorial of the type found in most villages. Nevertheless it contributed its "quota" to the appalling carnage of the First World War, if such an impersonal description can be applied to the sixteen young men and one young woman who died in that awful conflict. Together with a single individual who perished in the Second World War, they are commemorated on this plaque in the church.
On many occasions during my 65 years in the village I have witnessed the annual act of remembrance in front of this little shrine, always with the moving recitation of the time-honoured words "…we will remember them…" and, sometimes when I was a boy, the ringing tones of a bugle sounding the last post.
But who were these eighteen young people and what are their stories? Perhaps if we knew a little more about them and what they did it would help to bring them to mind at this time of remembrance.
We can be sure that 80 years ago the first of these many remembrance services was attended by their mothers, fathers, wives and sweethearts to whom the arrival of the feared telegram was a recent memory. As the years have passed the numbers of these relatives have thinned and now all but disappeared, taking so many memories with them.
I have done a little research but would very much like to hear from anyone who can add to this stock of information.
Here are the names, in alphabetical order – click on any one of them to see what information has come to light so far:
FIRST WORLD WAR
A.W. BERRY – NO RECORDS
W.E. CARPENTER
A.W. FRANKLIN
W.FENEMORE
R.C.W. HADLEY
F. JEFFS
J.W. MUDDIMAN
L. SHELLARD
W. SMITH - NO RECORDS
LILIAN A.M. TAYLOR
J.R. TYRELL - NO RECORDS
F.G. WADE
LESLIE WHITEHEAD
L. WHITEHEAD
G.E. WHITTON - NO RECORDS
H. WOOTTON
H.L.J. WOOTTON
SECOND WORLD WAR
Finally, see here for the sad story of a further casualty of war commemorated at Sulgrave.
Colin Wootton
(For further information on the Great War Battlefields there is an excellent website at:
http://www.ww1battlefields.co.uk/index.html)