L. SHELLARD
Leonard Shellard was a private in the 5th Battalion of the Oxford and Bucks Light Infantry. He died in Belgium on the 14th December 1917 at the age of 21. He was the son of Mrs Sarah Shellard of New Lane, Sulgrave. He has no known grave and is commemorated at the Tyne Cot Memorial.
He gained the Military Medal for an act of outstanding bravery which, sadly, is not recorded. The granting of this award is recorded in a Supplement to the London Gazette on 23rd January 1918, as follows:
His Majesty the KING has been graciously
pleased to approve of the award of the Military
Medal for bravery in the Field to the
undermentioned Non-Commissioned Officers
and Men: —
201850 Pte. G. Sheldon, S. Staff. R. (West
Bromwich).
10126 Pte. L. Shellard, O. & B. L.I. (Banbury)
1122 Pte. J. Shelley, Labour Corps (Fenton,
Stoke-on-Trent).
60984 Sjt. R. Shepherd; R.F.A. (Beverley).
As the entry in the London Gazette states, the Military Medal was awarded to Non-Commissioned Officers and Men and, it seems, there was sometimes only one copy of the citation setting out the reasons for the award. It is not known if Leonard Shellard gained the award before his death or if he died in gaining it. Sadly, it seems possible that his relatives in the village might never have known of his bravery. Certainly, there is no mention of his award on the memorial plaque in the church.
The Tyne Cot Memorial is one of four memorials to the missing in Belgian Flanders which cover the area known as the Ypres Salient. Broadly speaking, the Salient stretched from Langemarck in the north to the northern edge in Ploegsteert Wood in the south, but it varied in area and shape throughout the war. The Tyne Cot Memorial now bears the names of almost 35,000 officers and men whose graves are not known.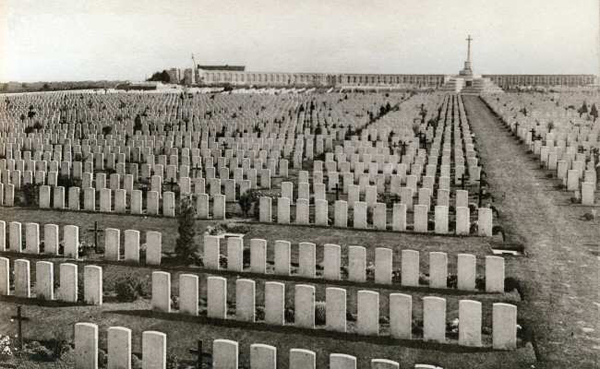 "Tyne Cot Cemetery, with its serried ranks of headstones standing testament to the horrific battles and suffering here, is a deeply moving experience. The sight of so many graves brings a realisation of what the First World War meant, and the scale it was fought on."
From the World War One Battlefields website. Tyne cot in the 1930s.