W.E.CARPENTER
William Carpenter was the son of Mr W.T. and Mrs M.A. Carpenter of Sulgrave. He was a private in the 7th Battalion of the Royal Fusiliers. At the age of 19 he was killed on the Western Front in France on 20th March 1918. Having no known grave, his name is commemorated on the Arras Memorial in the town of the same name together with almost 35,000 other servicemen from the United Kingdom, South Africa and New Zealand who died in the Arras sector between the spring of 1916 and 7 August 1918. Given the date of his death he would almost certainly have died in resisting the last great German offensive in the Spring of 1918.
After the 1918 revolution Russia ceased to take part in the war and Germany was able to withdraw its troops from the Eastern Front. It decided to use these troops to support a massive offensive on the Western Front. Germany hoped that the 1918 Spring Offensive would enable it to end the war before the United States Army became firmly established in France.

The Germans decided to attack the Allied forces at three points along the front-line: Arras, Lys and Aisne. At first the German Army had considerable success and came close to making a decisive breakthrough. However, Allied forces managed to halt the German advance at the Marne in June, 1918. After suffering 168,000 casualties during the battle, the exhausted German soldiers were forced to retreat. This was the last throw of the dice for the German army and the war ended some 5 months later on 11th November 1918.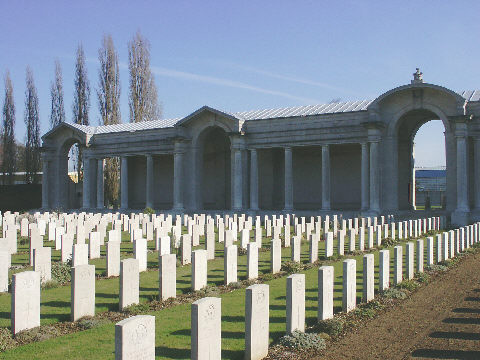 The Arras Memorial