G. LUTON
In a remote corner of Sulgrave Churchyard stands this headstone erected by the Commonwealth War Graves Commission. It is difficult to see the wording on the memorial since, for some unknown reason, it does not face the open churchyard but rather the boundary, now marked by a dense bush.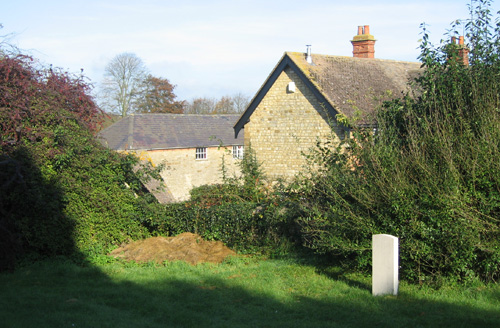 The inscription reads:
13040316 PRIVATE
G. LUTON
PIONEER CORPS
9TH JANUARY 1943
This information is confirmed in the official records of the War Graves Commission but other than giving his name as "George" no additional details are available as to where he came from, the names of any relatives or the manner of his death.
It is thought that he was attached to a unit of the 4th/7th Dragoon Guards Amoured Regiment based for a time in 1943 at Thorpe Mandeville.
Fifty or more years ago there were many rumours and theories about the soldier commemorated on this lonely tombstone. With the passage of the years these have faded whilst the stone itself has been maintained in pristine condition, as are all the memorials cared for by the Commission wherever they may be found.
Any information regarding George Luton would be much appreciated.