A.W.FRANKLIN and F.G.WADE
Albert Franklin and Frederick Wade are linked together here because they were both in the 1st Battalion of the Oxfordshire and Buckinghamshire Light Infantry and died within months of each other in the same theatre of war.

Albert Franklin was a Lance Serjeant in that battalion. He died in Mesopotamia (present day Iraq) on the 12th November 1915. He was the son of William Henry and Mary Anne Franklin. The official records do not mention Sulgrave but his name is, of course, on the memorial and there were Franklins in the village until relatively recently.

Frederick Wade was a private in the battalion. He died on the 7th April 1916 , also in Mesopotamia. His age is not given and there is no mention in official records of any relatives in the village. However, there were also Wades in the village until relatively recently.

They were volunteers who joined up before conscription was introduced in January 1916. Were they perhaps friends in the village who decided to "go and do their bit together"?

They and 40,500 others with no known graves are commemorated on the Basra Memorial in Iraq. Allied operations in Mesopotamia were against the Turks, staunch fighters and allies of the Germans.

On 23 October 1914 British Indian Army troops, who were already in Bahrain to protect the oil refineries there, invaded southern Mesopotamia and advanced up the Tigris Valley. They soon captured the important city of Basra, and were reinforced. Turkish attacks were repulsed, and late in 1915 the British advanced again through Kut-el-Amara and on north towards the Mesopotamian capital of Baghdad. Given the date of his death, it is conceivable that Serjeant Franklin was killed during this advance, in November 1915. However, by the end of the year Major-General Charles Townshend, who had taken over command of operations, found himself besieged in Kut by a Turkish army much superior in numbers. The First Battle of Kut, begun on 5 April 1916, marked the final British attempt to relieve the beleaguered 10,000 troops. Its failure sealed the fate of Townshend's force which, at last out of supplies, surrendered unconditionally to Turkish commander Khalil Pasha on 29 April 1916.

Frederick Wade's battalion took part in this battle and since he is recorded as killed on 7th April of that year it seems likely that he lost his life in the attack. It was said to have been the greatest humiliation to have befallen the British army in its history. For the Turks - and for Germany - it proved a significant morale booster, and undoubtedly weakened British influence in the Middle East. In echoes of the current debate there were demands for a parliamentary inquiry into what had gone wrong in Iraq.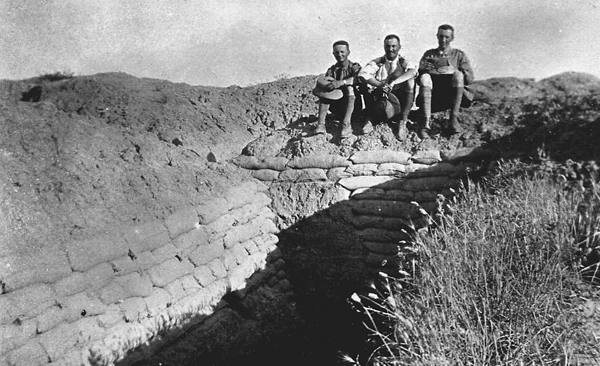 British Trench at Kut.
Copyright Dr Gerard Bulger 2002-6