THE WANDERING BADGER
Home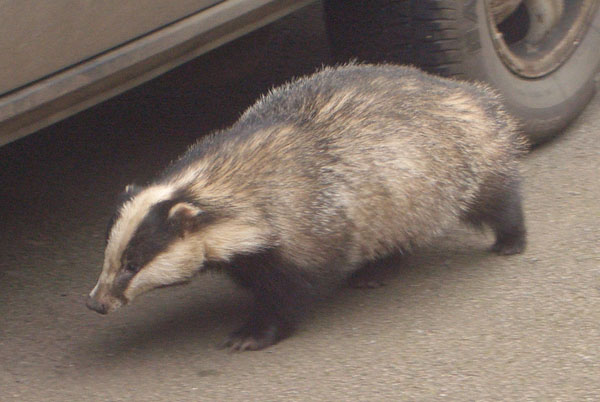 Photo: Adrian Stuart

The badger at the mercy of passing cars.
On the morning 20th February residents of Helmdon Road, Sulgrave were treated to the very unusual sight of a young badger wandering aimlessly into the village in the middle of the road. Badgers are, of course, nocturnal animals and this one was clearly confused and disoriented. Strenuous efforts were made to protect it from road traffic and it was finally enticed into the safety of a back garden whilst a call was made to "Brockwatch" at Daventry.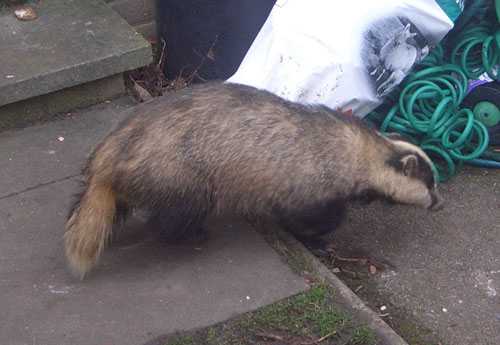 Photo: Adrian Stuart
The badger finds sanctuary in a back garden.
 After a very short interval, Sue Hess came to the village, collected the animal and took it to a vet in Towcester who examined it and pronounced it uninjured. However, it was considered to be in the badger's best interests to take it on to the Leicestershire Wildlife Hospital where it spent several days. It was released back into the wild at dusk one evening to the south of the village and immediately set off across the fields, giving every impression that it knew where it was going.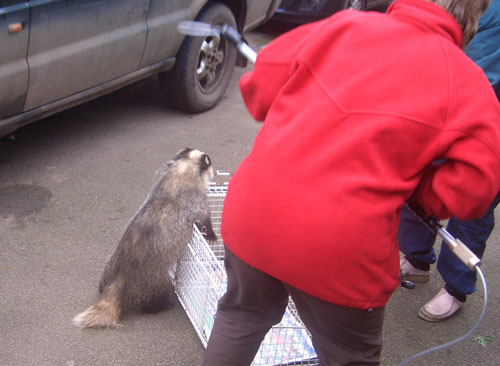 Photo: Adrian Stuart
Finally enticed into a special cage for transportation.
A possible explanation for this unusual behaviour is that the badger may have ingested some poison, such as slug pellets, which would have had the effect of making it disoriented.
More about the work of "Brockwatch" can be seen at www.brockwatch.org.uk