FLOWER OF THE MONTH - JULY 2009
(Home)
COMMON BIRDSFOOT TREFOIL (Lotus corniculatus)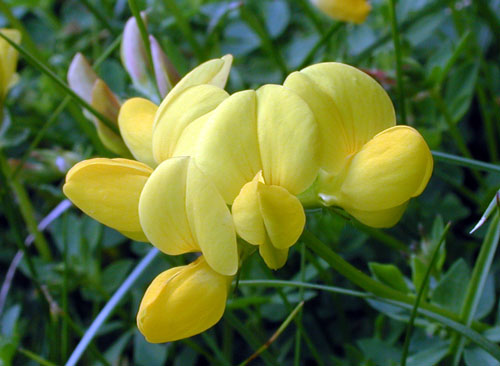 This member of the pea family (which includes bean, vetch, clover, lupin, gorse, broom and many others – the seed-pods are a clue to identification) is a common plant of dry grassland, a more or less prostrate perennial. The leaves appear to be trifoliate, but in fact consist of five leaflets of which the lowest two are bent back and are therefore less obvious. Birdsfoot trefoil blooms through most of the summer. The flowers, bright yellow with a tinge of orange, are in clusters of up to seven.
This modest little plant has acquired a host of local names, probably a sign of the affection in which it is held. The seed pods are about an inch long, straight and pointed in a cluster resembling a bird's foot; hence also the alternative names lady's fingers, fingers and thumbs, and granny's toenails. The cheerfully bright flowers provide their share of names: eggs and bacon, butter and eggs, hen and chickens, cocks and hens; and their shape, like a medieval slipper or sabot, gives us Dutchman's clogs.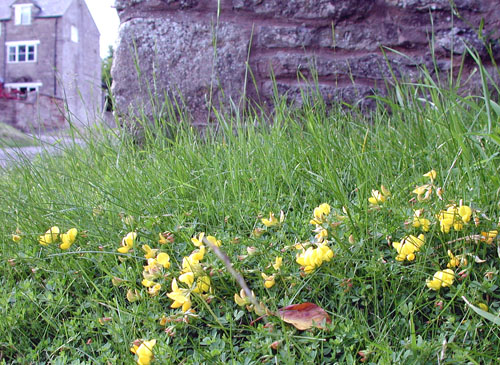 Birdsfoot Trefoil in Helmdon Road
Text by George Metcalfe. Photos by Colin Wootton.