FLOWER OF THE MONTH - JULY 2008
(Home)
BLACK KNAPWEED (Centaurea nigra)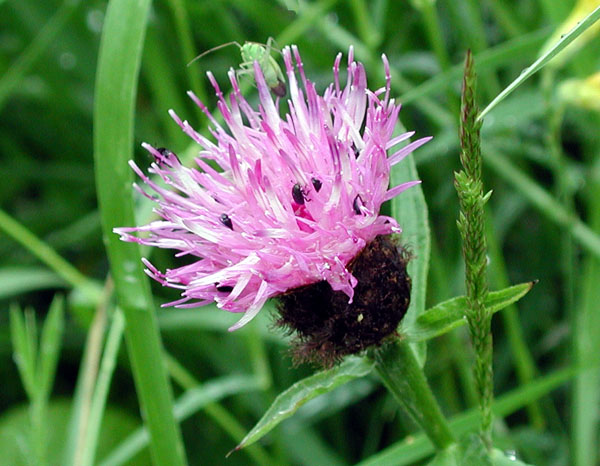 Black Knapweed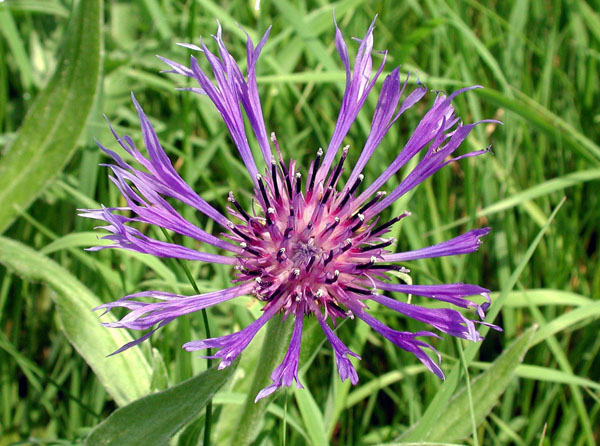 Greater Knapweed
The genus Centaurea includes not only the knapweeds but also the cornflowers and the star thistles, and the flowers of the black knapweed may be mistaken for those of small-headed thistles. It is a plant of "wildflower meadows" and grassy places in general. The solitary purple flowers, on stiff ridged stems up to 2 feet high, are above heads of overlapping dark brownish bracts (hence another popular name, hardheads; in some areas they are also called paintbrushes). They appear from June onwards. The other widespread related species, the greater knapweed (C. scabiosa) has longer "petals" and the leaves are lobed.
The flowers are attractive to many species of butterfly.
The Northamptonshire poet John Clare, a keen observer of village life as well as of the natural world, tells us what in his day local girls did with the flowers of the black knapweed:
They pull the little blossom threads
From out the knapweed button heads
And put the husk wi many a smile
In their white bosoms for awhile
Who if they guess aright the swain
That loves sweet fancys trys to gain
Tis said that ere its lain an hour
Twill blossom wi a second flower
And from her white breasts handkerchief
Bloom as they ne'er had lost a leaf.
From The Shepherd's Calendar.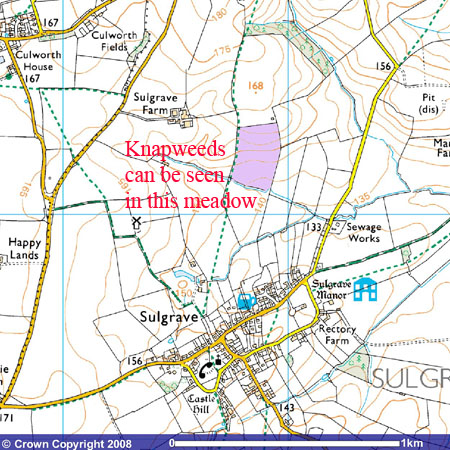 Image produced from the Ordnance Survey Get-a-map service.
Image reproduced by kind permission of Ordnance Survey
and Ordnance Survey of Northern Ireland.
Text by George Metcalfe. Photographs by Colin Wootton.