FLOWER OF THE MONTH - JUNE 2008
(Home)
COMMON COMFREY (Symphytum officinale)

Comfrey near the former watermill....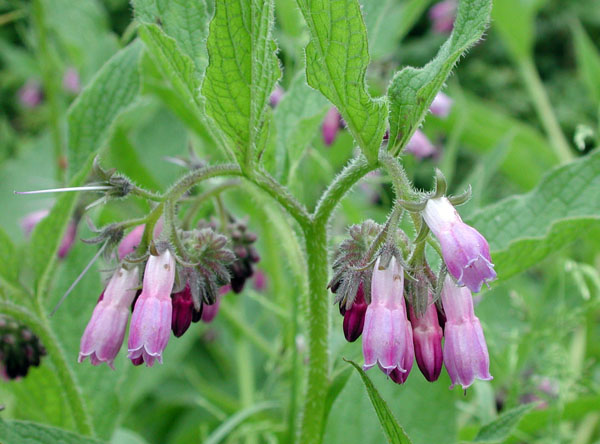 ....and flowers of a different colour in a plant a few feet away.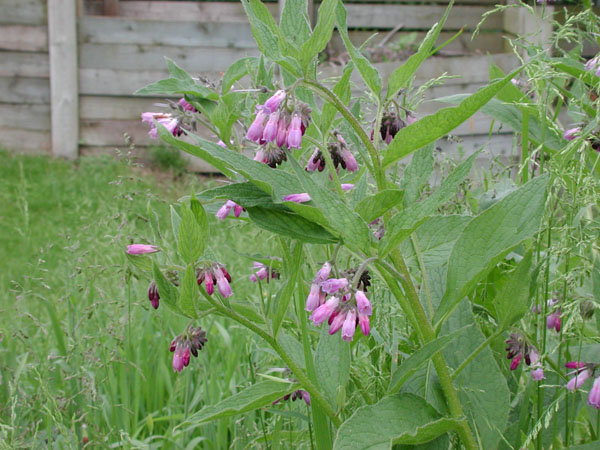 This plant is quite commonly found in ditch bottoms and other damp places. It is a robust hairy perennial, up to 3 feet in height, with broad spear-shaped leaves; the clusters of bell-shaped flowers, appearing from late May onwards, vary greatly in colour, from white through cream, pink and mauve to blue-purple – this latter colour probably indicates a hybrid (known as Russian comfrey) with another species (S. asperum, rough comfrey).
Once again, "officianale" reveals its medicinal uses. One of its common names is Knitbone, and in former days the grated root was used to make a plaster (like plaster of Paris today) to help set broken limbs. It has long been used as a poultice to treat grazes, bruises and sprains. Its use seems to have more scientific justification than many so-called herbal remedies: the plant contains a substance called allantoin, which promotes healing in connective tissue.
The young leaves may be eaten in salads, and leaves of any age can be battered and lightly fried to make fritters, but regular internal use of the plant is now frowned on as being harmful to the liver.
Comfrey also provides a valuable fertiliser for garden purposes. The leaves, composted and kept well moistened in a bucket or other suitable container, produce an effective liquid plant food.
For much of the lore associated with comfrey and other plants, Richard Mabey's books Flora Britannica and Food for Free can be warmly recommended.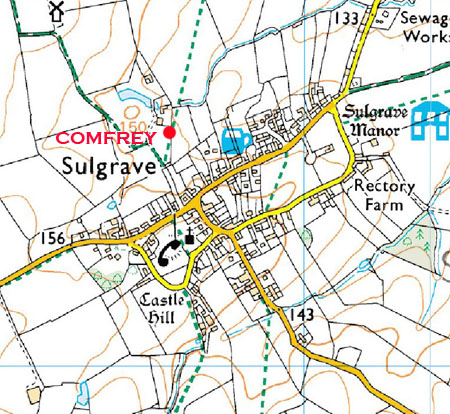 Image produced from the Ordnance Survey Get-a-map service.
Image reproduced by kind permission of Ordnance Survey
and Ordnance Survey of Northern Ireland.
Text by George Metcalfe. Photographs by Colin Wootton.