"RACE FOR LIFE" at SILVERSTONE
(Home)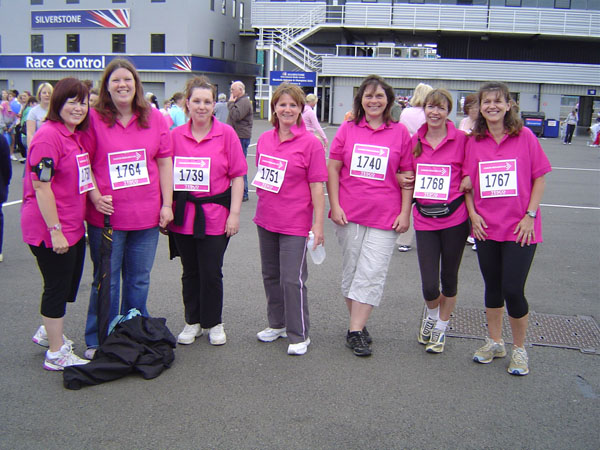 Tracey, Claire, Nicky, Caron, Lis, Linda and Sue at Sivlerstone Circuit.
Seven Sulgrave mums were at Silverstone Motor Racing Circuit on the evening of 11th June last. They were amongst 5000 other women who ran, jogged or walked 5km to raise money for Cancer Research.
They had set their sights on raising £200 but in the event they raised over £400.
On their behalf, Tracey Mullavey wishes to thank everyone who sponsored them, with special thanks to Andron at the Star for "much needed sustenance after our exertions!"
Tracey says: "Events like Race for Life are an important way in which Cancer Research UK* is able to fund its life-saving work into preventing, diagnosing and treating cancer."
The whole team are already looking forward to doing it again next year and would welcome anyone who cares to join them.
* Cancer Research UK is the world's leading independent organisation dedicated to cancer research. We support research into all aspects of cancer through the work of more than 4,250 scientists, doctors and nurses. Over the past 10 years alone, thousands of lives have been saved through earlier detection and improved treatments. But, much work remains to be done if we are to achieve our aim of beating cancer.