Sulgrave History Society's
ORAL HISTORY PROJECT PRESENTATION
AND OPEN EVENING - 27th March 2008

A packed church hall enjoyed a delightful occasion on Thursday 27th March when all those who had been interviewed as part of the Sulgrave Characters and Heritage Project were presented with a beautifully produced commemorative folder containing a CD and a complete transcript of their interview.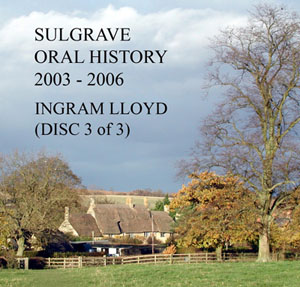 Sample CD Cover
Many friends and relatives of those present and, sadly of those, who in the three years of the project, had since died, listened with great pleasure to selected excerpts from some of the 52 recordings. Hearing the rich timbre of Sandy Munro's voice, the bubbly excitment in dear Emma Cave's and the warm calm charm in Joan Oakley's was to remind us all of their sad loss as well as fully enjoying their contributions. Equally so was listening to Joan Gottowik's wartime memories and Donald Taylor's tales of life on the farms in pre-war days - haircuts came free with a little help from Bert Cherry's sheepshearers!


Sandy Munro

Joan Oakley

Emma Cave
All these and all the voices and memories of all those interviewed have now been saved. They, their stories, tales and remembrances of a life style very much now of the past will be available for future historians and researchers as a complete set of interviews and transcripts will be lodged in the Northampton County Record Office. As will a set of pictures of Sulgrave village life and characters taken for the Project by Peter Mackness.

We all then enjoyed watching a superb selection of pictures taken over the last year or so by Colin Wootton of a number of village events and gatherings - available on the village web-site. Virtually all those present were to be seen at John the Post's "do" at the Manor, Emma's 90th birthday party or the Project Team's little celebration at Sue Young's.

All those who had been involved in the whole Project and those who had volunteered their memories were graciously thanked and a toast was drunk by all to the success of the whole venture. The evening concluded informally with all gathered chatting about times gone by and renewing old acquaintances perhaps not seen for some time. Light refreshments provided by Jenny Sarton closed, what was a unique, yet somehow typical Sulgrave event.
Martin Sirot-Smith, Chairman Sulgrave History Society