THE MILLENNIUM WINDOW
(Back to Sulgrave Church Main Page)
The following images and details of the four roundels were supplied by Jim Oakley: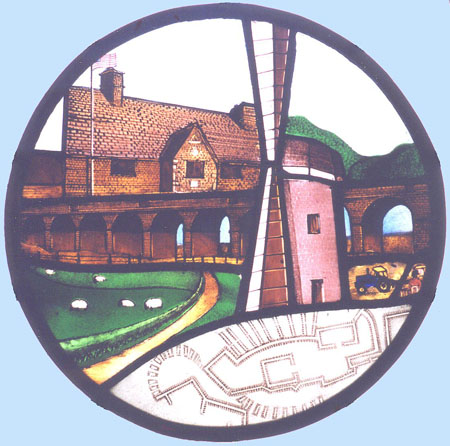 This roundel shows some of the important landmarks around the village of Sulgrave. It shows Sulgrave Manor, which was built by Lawrence Washington, the Helmdon Railway Viaduct, which forms part of the Parish Boundary and the Windmill. The plan is that of a Saxon Manor House, which is currently buried beneath the Castle Mound close to the West end of the Church. The sheep in the field remind us of the importance of the wool trade both in the past and the present, and the tractor indicating the continuing importance of farming in the village. The computer operator shows modern methods of design and communication.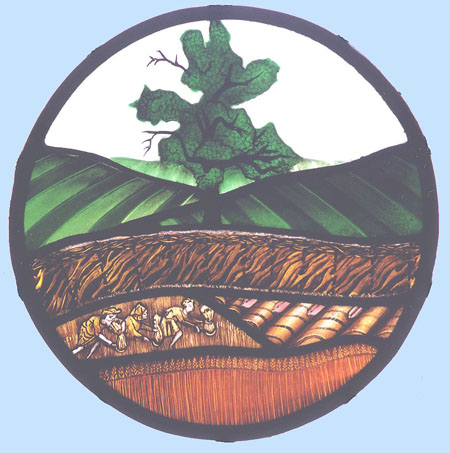 This roundel reflects the rural background of the village. The illustration of the tree is that of the rare Black Poplar. The three hills surround the village. The source of the River Tow is in Sulgrave.
A traditional layered hedge runs across the centre and beneath it are depicted farming methods both old and new.
The base shows the result of the farmers' labours - a wheat field.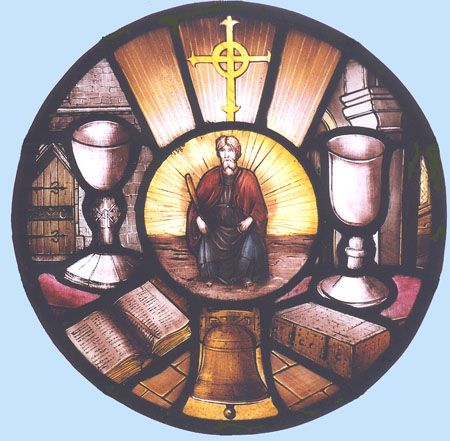 The central figure is that of St.James the Less. He is shown holding a fuller's club. The 14th Century oak monastic chest and the Saxon door are shown.
The image of the cross is taken from the Altar Cross.
The chalice on the right hand side is dated 1724. The chalice depicted on the left side is in regular use.
The bell at the base of the roundel was cast in 1610. It forms part of the six-bell chime, which is rung regularly.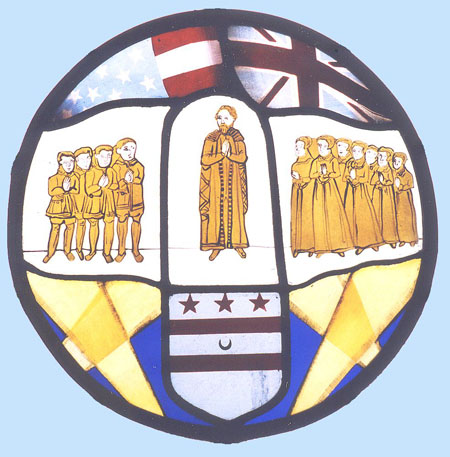 This roundel portrays the important link between Sulgrave and the United States established through the Washington Family. It shows the flags of the two countries and Lawrence Washington's Coat of Arms, thought to be the inspiration of the 'Stars and Stripes'. The central figure is a portrayal of Lawrence Washington, with his four sons and seven daughters on either side. The image is derived from the memorial brasses covering his tomb, which can be seen close to the Washington Stall.
The searchlight beams at the base of the roundel remind us of the searchlight unit that was based at Sulgrave during World War II.