SULGRAVE POCKET PARK



Sulgrave Pocket Park was established in 1988, under a scheme promoted by the Northamptonshire County Council. It is one of about eighty such parks in the County, the idea being to create wildlife habitats managed by the local communities with volunteer labour. The parks vary greatly in nature and size, from the smallest of a quarter of an acre to the largest of over twenty acres.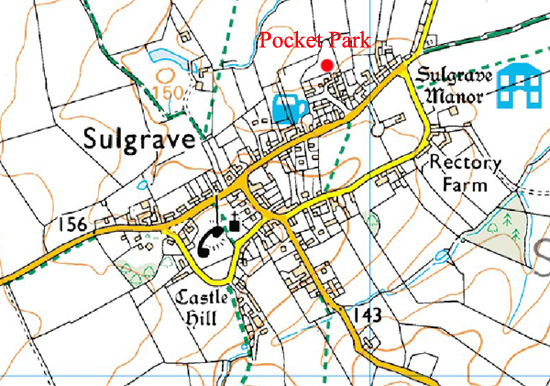 Image produced from the Ordnance Survey Get-a-map service. Image reproduced by kind permission of Ordnance Survey and Ordnance Survey of Northern Ireland.
Sulgrave's park, on land owned by the village, is almost an acre in extent. Roughly triangular in shape, it is bordered on two sides by mature trees. It is unusual insofar as it includes a play area for the young children of the village, with equipment paid for partly by the Parish Council and partly by voluntary money-raising. It also comprises spring and summer meadows, for wild flowers, and an area planted with a variety of young trees and shrubs.
On one day in May 1996, in a project supported by ACRE (Action with Communities in Rural England), a small army of volunteers, children as well as adults, dug, shaped, filled and planted up a wildlife pond, which quickly established itself and now provides a home for a healthy population of smooth newts and other small creatures.
Another great community day took place in February 1999 when, on a piece of land generously donated, adjoining the Pocket Park, Sulgrave Wood was born. Villagers representing some sixty households each planted a tree, of one of fourteen different species. With financial support from the County Council and from ACRE, the two sides of the land which had been fenced were planted with a mixed hedge and a collection of native shrubs added. An instant wood! There is a picnic table in the Park and seats there and in the wood.