NEW CIRCULAR BRIDLEWAY ROUTE
(Home)

In consultation with farmers, Natural England (NE)is setting up "Conservation Walks" to supplement existing recreational opportunities in the countryside.
One such has recently been created at Dial House Farm, Sulgrave, comprising a new "permissive" bridleway which links in with an existing bridleway to give a circular walk/ride from the village, as shown on the map below: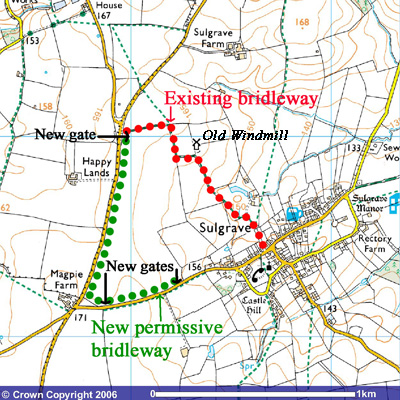 Image produced from the Ordnance Survey Get-a-map service.
Image reproduced by kind permission of Ordnance Survey
and Ordnance Survey of Northern Ireland.
Three new gates for pedestrians and horse riders have been erected in the locations shown on the map. At each of these gates is a notice stating as follows:
"A network of permissive bridleway routes have been created on this farm to link existing bridleways and footpaths, as well as creating new circular routes for walkers and horse riders. The farmer has created grass strips, beetle banks and pollen rich grass and wildflower strips around many fields to benefit wildlife on the farm. Many hedgerows around the farm are being restored and managed sympathetically to provide food and nesting sites for birds. Please remain on the marked routes to avoid disturbing the wildlife. Thank you.
This access has been provided under the Natural England (NE) farm conservation schemes, which help land managers protect and improve the countryside, its wildlife and history. It is permissive access and no new rights of way are being created. Existing rights of way are not affected. Please follow the country code, and any local signs and any CRoW access land restrictions - see www.countrysideaccess.gov.uk. Do not disturb wildlife, livestock or other visitors and in particular keep dogs under control. This is working farmland so please take care; people using this site do so at their own risk. Access ends in April 2016 "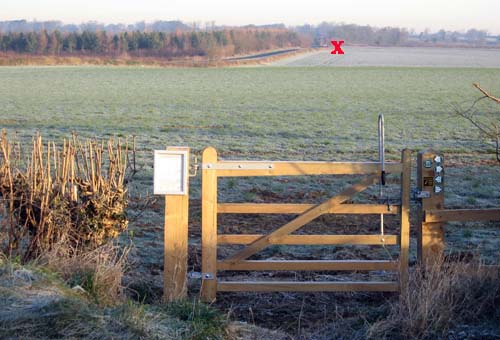 New access gate near to the Magpie. The new permissive bridleway
runs alongside the hedge bordering the Culworth Road, joining the
existing "Old Windmill" bridleway at point "X".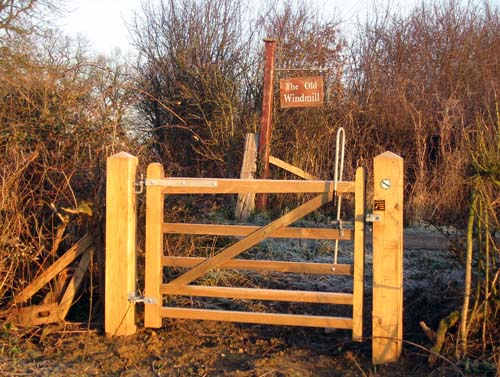 New access gate adjoining the junction of the Old Windmill drive
and the Culworth Road
Further information from the DEFRA website at: http://cwr.defra.gov.uk/Default.aspx?Module=CountryWalkDetails&Site=5636