MYSTERY MACHINE IDENTIFIED?
Home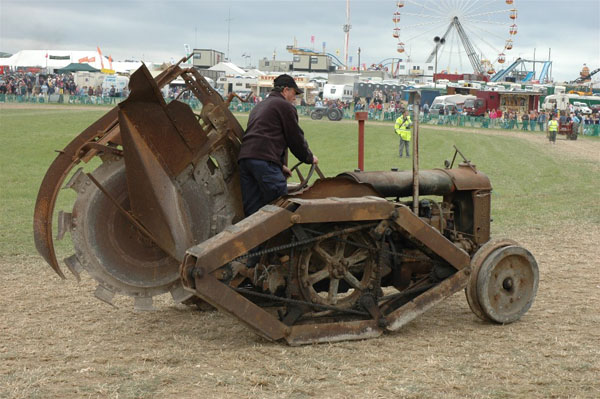 Peter Mackness from the village sent the above picture, with the following email:
Colin,

A friend has sent this attached image to me. He enquires "what was it's function?" Would you be interested in posting it on the village website to see if anyone responds to the query please?

Peter
And followed it up with this email:
Hi Colin,
Thanks for that. Now that you've agreed - and had a good guess - I'll tell you my own thought about this contraption. The large diameter wheel with its spade like attachments looks as though it can be lowered to adjustable depths. Could it be a land-drain trench digger? The chain driven geometrical device might compact the earth over the previously laid line of drains?
Peter
One from Scotland:
Regarding your website, I think that the mystery machine could have been one of Heath Robinson's, possibly designed for cutting briquettes of soft clay or peat.
Roy Branson
Another one from a farmer in the village:
Colin,
I am pretty sure that this mystery machine is used to pull out a trench for drainage purposes. You will note that the large wheel on the back of the machine rotates and there are scoops that would excavate the soil.
Regards,
Ian Cherry
Three from Steve O'Brien in Australia:
No.1.
G'day - I'm Steve O'Brien from Phillip Island, down in Oz and I'm quite curious to see if you've had your mystery machine identified yet.
It's got the looks of some sort of trench digging apparatus, but I can't figure out the actual rear drive. The front wheels look as if they'd be more at home on a railway track too!

So if you do know what it was cobbled together to do, I'd certainly appreciate sharing that knowledge!

Cheers, Steve

No. 2.
Thanks for the note Colin - yes, I reckon you're correspondents are on the right course.
The drive tracks make a lot of sense if it were to be working in wet clay type areas. The trenching wheel on the back looks more like a cutter than a digger, and that would make sense when dealing with clay too. The "scoop" behind the wheel would then be effective in dragging/guiding the clods up from the trench and to the side on the surface.
So - a machine for digging small open channels, or possibly trenches for pipe-laying. The front wheels have me beat, but like many machines that were put together on our farms in Australia at the time, you used what you had.
By the way, two of our most popular small tractors were the grey Fergusson and the Fordson Major. Both were great tractors in their day, and many are continuing to do good duty!
I'm just a pup at 58 but have many great memories of growing up on the farm and learning skills from my father and grandfather that are still serving me well today.
Cheers, Steve
No. 3.
Colin - here is another suggestion, from a friend, John Downie, who lives in New Zealand....

Cheers, Steve

It may be a portable saw. The wheels can be made close to round, allowing it
to slowly crawl into bush. It then lines up with a felled log, lifting
the whole body as high as needed. Then the saw-blade is turned on and
the wheels slowly lower themselves into the lowest possition shown here,
with the skilled attendant putting just enough pressure onto the blade
so as to get a fast, clean cut with no distortion. Used in countries
with extremely large/long/tall logs that were too heavy to drag whole,
when the whole length of log was not needed anyway.
Long logs were needed for ships masts and shop and factory floors, other
wise, timber, for use in, say house construction, was only needed in
(relatively) short lenghts. Cutting eg. Redwood-USA-, Kauri-NZ-, made
these very heavy logs more manageable.
One from a former villager:
Hm, I don't fancy trying it as a saw. My memory of such machines is that they didn't have a PTO drive to the tractor but were driven from the wheels. Like the plough in the photo of Den Gascoigne the Coulter blades were lowered and pulled into the ground when the tractor moved. Having said that though there were tractor mounted saws a few years later, using PTO and the Ferguson patented 3 point linkage for use in fields, as well as the mounted sawbenches.
Mike Constable.
One from Tom Cockeram, editor of the Village Newsletter:
Hi Colin
Peter should know this one.
I'm taking a guess, but it looks like a drain laying machine to me!
Crude improvised tracks (well more a wheel with flats on it) on the back for working on soggy ground, and a big disk cutter to slit the soil and deposit a drainage pipe in.
So much for your archaeology when it had finished.
Can I claim a Chocolate Noddy!
Tom
From a nearby village:
Hi Peter

Your mystery machine is a clay pipe trenching outfit fitted to a Standard Fordson with walkers for laying tile drains behind it by hand through bogs. There is a more modern version fitted with the same walkers on a Fordson Major Diesel at Byfield.
Kind Regards
Frank Hedges
One from the archaeologist who carried out the Castle Green Resistivity Survey:
Dear Peter Mackness,
We believe your mystery photo is a machine for laying 'Mole Drains' along fields.
Ask your local arable farmers, I'm not sure that anyone uses drainage like that any more.
Another thought is that it's a machine for ripping up railway sleepers (check out the front wheels, missing a tyre or designed for rails?)
If you find out for sure, please tell us
Kind regards,
Adrian & the Geophysics Team

Rodney Henn, former Chairman of Sulgrave Parish Council, sent the following:
Hi Colin,
The machine in question is a drainage trencher used for digging a trench and then manually pulling the pipes into a chute on the trencher which then laid the pipes as it moved slowly along putting clay pipes into wet land. After the pipes had been laid a tractor with a trailer having a side blade came along pushing the soil back into the trench. The machine in question is a Standard Fordson tractor with tracks that walked the machine along subsequently giving it better traction with less pressure on the ground than a wheeled type. The maker as far as I can remember was Howard.
The later type I worked with was based on a Fordson Super major and was owned by A.J. Cannon Contractor of Williamscot near Cropredy, Banbury. This type of trencher was used up to the Ford 5000 and after that the idea was changed to a large Mole type trencher on todays conventional tracks.
I would be very interested to see the one at Byfield, to the degree that I have been looking for one myself.
Regards,
Rodney Henn
The following was received from Des Wootton who grew up in Sulgrave:
RE: YOUR PHOTOGRAPH
This is a Fordson Standard Tractor. Converted by Rotary Hoes Ltd., later called 'Howard'.
The rear wheels were called Rotopad. The machine was used for cutting trenches in which originally were laid clay pipes for land drainage. These machines were developed over the years, certainly until the late 60s at which time they would be laying continuous plastic pipe, which of course is still used in land drainage today.
Regards,
Des Wootton
Further ideas or comments would be welcome at mailto:[email protected]