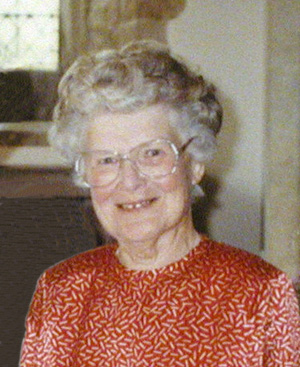 Mrs Joan Oakley, for 30 years a resident of Sulgrave, died on 12th March 2007. There follow three appreciations of her life, but firstly, some photographs: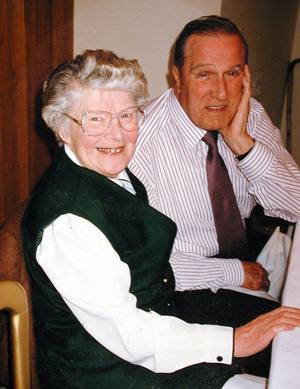 Lunch at Sulgrave Manor in 1999,
with Sandy Munro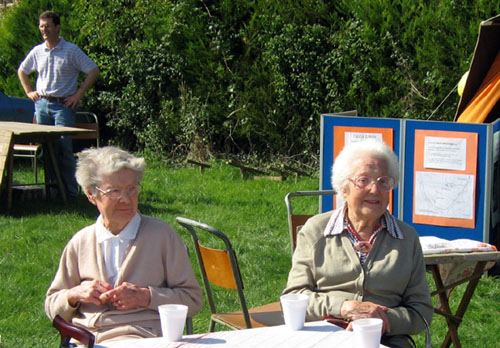 Sulgrave Field Day, September 2006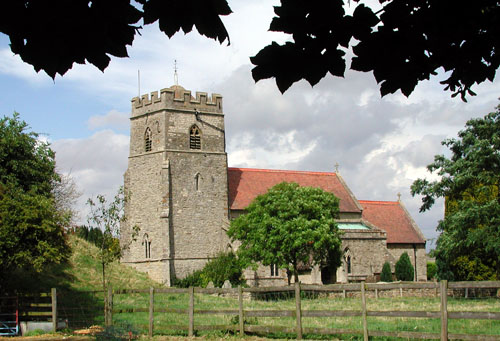 Church of St James the Less, Sulgrave,
central to her life in the village....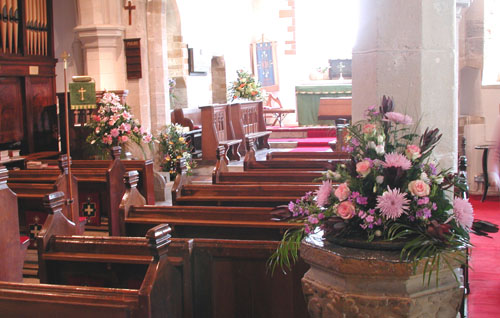 ....and its beautiful interior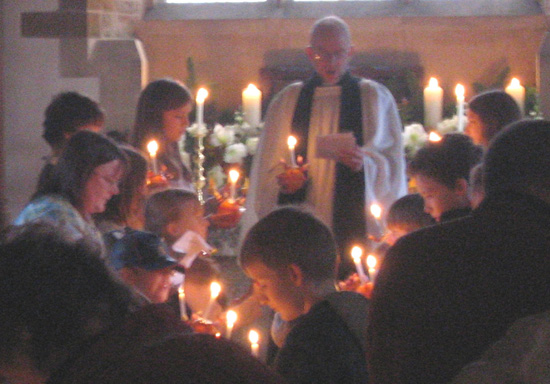 .....a Christingle Service, the kind of occasion with the children
to which she contributed so much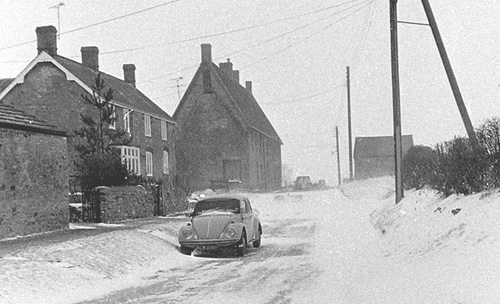 ....the famous VW Beetle in 1978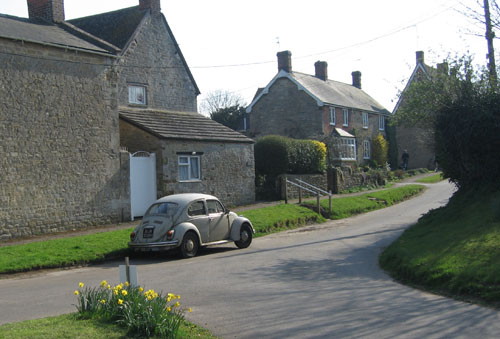 ...and still in its rightful place almost thirty years later!
The following appreciation was written by Kate Miles a few months before Mrs Oakley died:
Joan was born in Castleford, Yorkshire in 1916 where her father practised as a medical Doctor. She had a happy childhood, growing up with an older sister, Joyce, who like Joan, was to come and live in Sulgrave in later years.
After school, Joan considered a career as a Doctor, but was dissuaded by her father. She trained as a primary school teacher and taught locally in the Castleford area. She learnt to drive at an early age and enjoyed driving an Austin 7 "sit up and beg" car. The vicar's wife spotted Joan behind the wheel and asked her if she could teach her younger brother, George, to drive. The driving lessons progressed so well that within a year of meeting Joan and George were married!
George was an ordained missionary with a teaching degree working in Borneo when he met Joan. Married missionaries could not live in Borneo for safety reasons, so after their wedding in Nov 1947, the newly weds left by boat for South Africa. They settled in Durban where George was a curate in St Paul's Church. By coincidence, another Sulgrave family (the Tattersalls) were living in Durban at this time and they attended St Paul's too in fact their son was christened by the curate working with George!
Joan and Georges' first son Robert, known as Robbie was born in Durban in 1950.
Eighteen months later George was appointed vicar of Kloof, a well to do village on the outskirts of Durban. A wealthy businessman had funded the building of the Village Church provided that it was a "typically English" Church and called Agnes after his mother who he said was a saint! George dealt with this situation by stressing the existence of a real St Agnes and used to celebrate the patronal festival with "icecream Sunday".
The second Oakley child, Jimmy, was born in Kloof in 1952. As a missionary's wife, Joan got fully involved in Christian life and George also ran the Mission Church where Alan Paton, author of a number of books including "Cry, the Beloved Country" (published in 1965) was Church Warden. Apartheid was rife and Joan felt that politics and religion spoiled South Africa.
The family returned to England in 1952 and stayed with Joan's sister Joyce. Soon after their return, George was appointed vicar of St Mary's Church, Willesden. George was to spend nearly 25 years in this parish with Joan, herself a committed Christian, helping her husband. Once again Joan got involved in running the Mother's Union and was a Justice of the Peace (J.P.) serving in the local community as well as being a wonderful mum to her two growing boys.
George was delighted to be made a "Prebendary" (honorary canon) of St Paul's Cathedral. In days gone by, prebends were entitled not only to a named seat in St Paul's (as still happens today) but also to the receipt of rents from various sectors of London. These days newly appointed prebends receive a "penny Bun" in lieu of the rents. The bun that George received was preserved by his son Jimmy for posterity in a paperweight, which Joan still has.
Joan and George retired to Sulgrave from Willesden in the late 70's to a house originally bought by their son Robbie as weekend retreat from his teaching post in London. Robbie was involved in a number of restoration projects for St James the less here in Sulgrave and was a great fund-raiser. He once wrote to all the Parishes in the country with the same name and asked them each to donate a £1 towards the restoration fund!
The Oakleys made many friends in the village. Canon Brown, who looked after 3 parishes in the 70s namely Culworth, Sulgrave and Thorpe Mandeville was a frequent visitor to their home and he soon had George back to work helping with services! George also used to preach in Weedon Lois. Joan's sister, Joyce, also came to live in Jasmine Cottage Little Street, Sulgrave with her husband Maurice at this time which was a very happy event for all concerned.
George passed away suddenly, in 1981, on his 69th birthday. Joan's faith, family and friends helped her cope with his death and she continued with her Christian commitments. Together with her sister Joyce, she was encouraged by Canon Brown to set up a Children's Service in St James, which began in the early 80's and flourished through to the late 90's. In 1993 she tragically lost her elder son, Robbie at the age of 43, to lymphoma. The graves of her husband and son lie together in sight of her cottage to the East side of St James Church. She also survives her brother-in-law Maurice and sister Joyce, who passed away in 1994 and 1998 respectively.
These days Joan remains as active and as enthusiastic about Christian life as ever. She is often seen driving through Sulgrave in a much-loved Volkswagen Beetle. She continues to enjoy the company of many friends and is a wonderful granny to 7 year old twins Grace and Joshua who often come to visit her from London with her second son Jimmy and his wife Pandora. It is a great privilege to know her.


The following tribute was written by Julie Metcalfe, not long after Mrs Oakley died:

MEMORIES OF JOAN OAKLEY
In October 1985, during an interregnum, Joan started a Children's Service, based on the one she had led for many years in their London Parish. Eight children came, aged from 3 to 11, from the Henn, Houlston, Lloyd and Tims families. By Christmas there were 25 at this 11 o'clock service, by 1987 there were 30, and in 1996 there were 40 on the register. What an achievement, and of course all due to Joan's loving influence.
Here then are the thoughts of former members of that congregation, now scattered (two emails from America!) and some with children of their own.
"Mrs Oakley was a real inspiration to us all. She would always listen, always be interested, nothing was too much trouble."
"How sweet she was to our family when we first moved to Sulgrave"
"In every memory she is always smiling. When I had chicken-pox, she came round with a colouring-book and some crayons – it made my day!"
"She always made me feel the best of helpers."
"She started something very special".
The detail in their letters is proof of how special those services were; jobs were allocated – ringing the bell, carrying our small wooden cross or our banner, reading the lesson, taking the collection and then counting it – the young treasurer's job. There were stars and stamps to mark attendance. Rewards for completed books were modest – a bookmark, a little picture. For long service awards, so to speak, there were small notice boards for your room, or "I am still using an alarm clock that I received". The church year was always followed and celebrated; Mothering Sunday, with a full church, followed by the revived tradition of 'clipping the church'; Palm Sunday was recalled, with its real donkey at the church door, on one occasion; the Easter Garden had to be decorated with tiny flowers. The year carried on without a break. Joan would say "the church never stops, so neither do we!" After Harvest Festival there was, all too soon, Advent to prepare for: its Christingle service ("We always remember when Robbie's cassock caught fire!"), a carol service and nativity play. Not in the Church's calendar was Ice-cream Sunday – high on the memory list. It was a variable feast, not widely advertised in advance, but simply when Joan felt the weather might be kind. Cornets were served on the very convenient table-tomb near the south door, with many photos in our scrap-books proving one memory: "The sun was always shining".
There was always singing and acting, simple actions with songs, or the uninhibited interpretation of Bible stories: "I think my ad-libbed and understated line 'Oh, dear!' at the terrible news of my leprosy is what let me down! But when the imaginary curtain came down, Mrs Oakley would always be smiling". And how Joan would have smiled at remembered mistakes: "My favourite song was about Pontius Pilot – what a funny name, I thought".
"Today Joan taught us about the Holy Goat".

As a helper at the service, I recall Joan asking me to talk about Trinity Sunday. On very safe ground, or so I thought, I started with "tricycle – three wheels. Now, let's think of other words". The list grew: Triangle, trio, triplets, triplane, trimaran (I was now getting out of my depth), and then a very small boy said "Trifle!", and it was carefully written down. Joan would have smiled, but never, never criticised.
To think of Joan was also to remember her car ("A groovy Beetle that we all loved". "She did have an extremely cool car!"). And from a parent: "Joan had parked her famous VW Beetle in the Church Hall car park. On coming out from a meeting, she went to her car, but it wasn't there. It had rolled across the car park, crashed through the fence on the boundary with the Old Vicarage, but miraculously missing the concrete fence-posts. The car was only slightly scratched, the fence easily repaired, and the clearly the Lord had steered the car in the safest path".
Perhaps best of all, from a founder member of the Children's Service: "If we all listen very carefully, we may just be able to hear, from up high, the sound of the air-cooled engine of a speedy VW Beetle, with one of life's saints at the wheel".
Thank you for your memories. They show your love and appreciation of all that was offered to us, over those years – how to worship, how to create a caring community, how to grow in confidence, and now, how to treasure memories of a most beloved friend.
My thanks to Lucy Allan, Ian Cherry, the Collinsons, David Doswell, George Holley-Moore, the Houlstons, Angharad Lloyd, Rachel Massey, the Macdonalds, Katherine Lewis (née Tims), Helen and David Tims.
Your letters will be sent on to Jimmy, Joan's son.
Julie Metcalfe
Finally, the following tribute was given by Rev. Whiteman at Mrs. Oakley's funeral:
JOAN OAKLEY
Joan Campbell was born in Castleford, a mining town in Yorkshire in 1916.
Her father was a General Practitioner and her mother a school Governess.
Joan lived with her brother Pat and her sister Joyce.
She was educated at Abbots Bromley School Staffordshire

Joan trained as a primary schoolteacher and taught in a school in Castleford.
In 1947 she met George Oakley, a priest, who was working as a missionary and a Principal of a school in Kuching, Borneo. George was on leave and was staying with his sister, who was the Vicars' wife at Castleford Parish Church. Joan was very active in the Church and so soon met George. Within a year – they were married – by George's Brother-in –Law.
George wanted to continue with his missionary work, but the post he had before was not suitable now that he had a wife to look after. Instead, his new post was to be in South Africa. George became a curate in St. Paul's Church in Durban.
Joan and George's first son - Robbie was born in Durban in 1950.
Eighteen months later George was appointed vicar of Kloof, a village on the outskirts of Durban.
Their second child - Jim, was born in Kloof in 1952.
Joan of course got fully involved with the work of the church and also with the other churches in the area where she ran the Mother's Union. She made many friends there.
Some of whom became life-long friends. She remained in regular contact with some of them over 50 years later.
One of the girls in the congregation who Joan got to know well was Virginia Wade who went on to win the Wimbledon Women's Tennis Championship in 1977.
Joan, however, found the Apartheid regime in South Africa completely alien to her and so in 1953 made it clear to George that she wanted to return to the UK.
They came back – without a job and stayed with Joyce her sister. It was not too long before George was appointed to be Vicar of Willesden, a rather run-down part of North West London. The Church – St.Mary's Willesden was in danger of being closed, but due to Georges's hard work and the support he received from Joan, before too long the Church was on its feet again.
Here again, Joan as Vicar's wife ran the Mothers' Union, and with a loyal team started a Childrens' Service. Between them they gradually built up a devoted and thriving congregation. During this time, both Robbie and Jim were fully involved with the work of the Church – either as servers at Holy Communion or in the Choir.
In 1967 Joan was appointed to be a Justice of the Peace. She attended court two or three times a week and was highly regarded. She was the Chairperson of the Magistrates' Court that was convened in June 1977 to deal with the Grunwick dispute when on 22 June, Arthur Scargill brought miners from Yorkshire, South Wales and Kent to join the mass pickets in Willesden.
George was to spend 24 years as Vicar of Willesden. He was the Rural Dean of Brent and was made a Prebendary of St.Paul's Cathedral. During his time in Willesden he managed to get the fabric of the ancient Church fully restored and got the Church well and truly back 'on the map'. So much so that George and Joan were invited to the Buckingham Palace Garden Party. The High Sheriff of Greater London and the Bishop of London were regular visitors. Sir John Betjeman made a special visit to the Church, and stayed for lunch at the vicarage.
When George retired in 1977 the Church was successful with a large, regular congregation; several Weddings on most Saturdays and the Venue of an annual Pilgrimage to Our Lady of Willesden an event which brought many hundreds of people every summer from all over the South of England to Willesden.
He could not have done this without Joan's support and with the support of the great many friends that they had both made over the time of the incumbency. Many of whom Joan was still in regular with contact 30 years later.
On retirement, George and Joan came to live in Ivy Cottage in Sulgrave. It was not long before Canon Brown – the priest in charge of Sulgrave Church realised what an asset it was to have a retired priest living so close to the Church. Soon George was taking services at Sulgrave and at other nearby churches. Joan was very active in the village. Her brother Pat and his wife Margaret came to live in Chipping Warden and her sister Joyce and her husband Maurice bought Jasmine Cottage in Little Street, Sulgrave.
George passed away suddenly, in 1981. Joan's faith and the support of her family and the people of Sulgrave helped her to cope with her loss.
Joan continued to be fully involved with the work of the Church. She was enrolling member of the Mothers' Union, and was always involved and supported the various events in and around the village.
Before long Joan saw that there was a need to get younger people involved in the church. Soon, with a group of Sulgrave friends they started the Childrens' Service, which took place without fail at 11.00 every Sunday at Sulgrave. Nothing was allowed to take precedence over this! The Children's Service ran from 1985 – 1999. Trinity Sunday every year became to be known as ice-cream Sunday and was a favourite event. In 1999 one hundred helium-filled balloons were released as an extra celebration. The Mothering Sunday Services regularly filled the Church and in 1990 enabled the congregation to 'clip the church' where the congregation held hands circling the church – reviving a tradition that had not been seen in Sulgrave for over 30 years.
Robbie came to live at Ivy Cottage in the late 1980s and Ivy Cottage soon became a popular venue for dinner parties. Robbie also became fully involved with the Church. He would often participate in Church services and help organise events in the village. He was a leading light in the raising of the funds to enable Sulgrave Church to be restored in 1992. Fortunately he was able to see the restoration of the church completed – shortly before his death in 1993.
Robbie had collected a large sum of money from the people of Sulgrave, which was to be given to the Missionaries of Charity, the charity led by Mother Teresa. One of Robbie's last requests was that if possible the money should be handed directly to Mother Teresa. This seemingly impossible task was fulfilled by Joan. In what can only be described as a miracle. Joan and Jim managed to find Mother Teresa when, in 1993, she made a secret trip to the UK. Jim and Joan were invited in and just the three of them talked in private. Joan was able to hand the money directly to her fulfilling Robbie's last request.
Once again, propped up by her unwavering faith, her family and the support people of Sulgrave, Joan coped with the loss and was soon active around the village and the church.