THE SCENE
(Back to Chapter 1 Index)
The Parish of Sulgrave lies almost in the very centre of England, in the south west corner of Northamptonshire and only a few miles from the counties of Warwickshire, Oxfordshire and Buckinghamshire. It is seventy miles north-west of London, eighteen from Northampton, eight from Banbury and Brackley and twenty-eight miles from Oxford and Stratford-upon-Avon.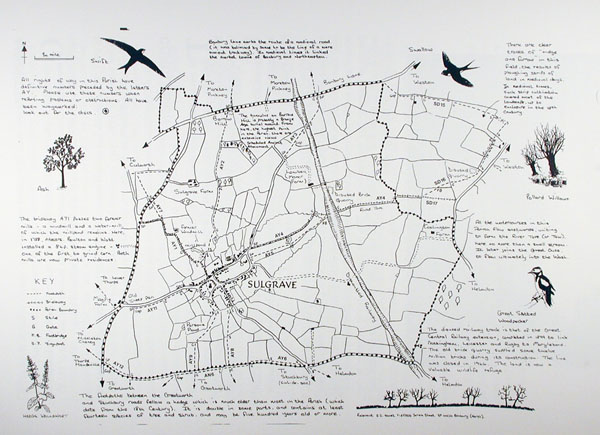 Click on this image to see a bigger version
The village nestles in a valley cut by the River Tove or Tow, which eventually flows east into the Great Ouse and thence into the North Sea via the Wash. The range of low hills which surround the village on three sides is in fact part of an important watershed. All the streams that rise on its western slopes flow into the Cherwell and thence southwards before becoming part of the Thames at Oxford. The hills never rise much above 600 ft, but from the highest point in the Parish, Barrow Hill, extensive views of the surrounding countryside can be enjoyed. Nine counties are indeed said to be visible at times.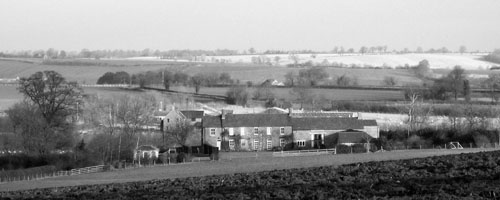 The view northwards from Barrow Hill
Situated on the belt of limestone which runs diagonally from the Dorset Coast to Whitby in Yorkshire, the village of Sulgrave was at one time almost entirely built of local stone. With diverse belts of clay running over and under this limestone a constant water supply has always been assured from the wells that abound within the village. Indeed the River Tove, which rises at Holywell Spring behind the present Spinners Cottages, has never been known to run dry. Thus there is evidence of man's occupation within the Parish of Sulgrave since the Bronze Age.