THE DOMESDAY SURVEY
(Back to Chapter 1 Index)
At the time of the Domesday survey, in 1086, Sulgrave was a large manor extending over four hides (480 acres). It was held by a Norman knight, Ghilo de Pinkeney. He also held the Barony of Weedon, of which Sulgrave formed part, for the payment of fifteen shillings to the Constable of Windsor Castle annually. This was so until 1301, when one Henry de Pinkeney gave the Barony to the King, Edward I.
Ghilo rented the land of Sulgrave to Hugh, Landric and Osbert. There was at this time land sufficient for ten ploughs. Three of these ploughlands formed Ghilo's personal demesne with one serf attached to each. Five ploughlands were in the possession of twenty villeins and six cottagers. The remaining two had probably become waste, for the Domesday Survey notes that the annual valuation had decreased from £9 to £7.
The probable site of Ghilo's residence at Sulgrave may be identified in the mound, which is known as Castle Hill, situated to the west of the present churchyard. This is on a spur of land at the head of the valley which creates an important strategic site.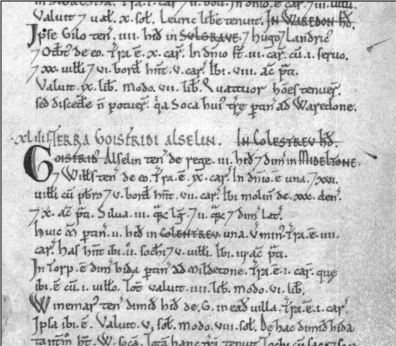 Domesday Book entry for Sulgrave
See here for further details from the Domesday Book