THE COMING OF THE MONKS
(Back to Chapter 1 Index)
Robert de Pinkeney, probably a younger brother of Ghilo, inherited a third part of the Sulgrave estate and granted it to the church and monks of St. Andrew in Northampton. This grant was confirmed in the reign of Henry II by the paramount lord of the time, Gilbert de Pinkeney. The Priory of St. Andrew was now in possession of the church and was a corporate land owner within Sulgrave. The Priory had been founded before 1076 and refounded with Cluniac monks from the Abbey of Ste Marie de Covitate on the Loire in 1084 by Simon de St. Lys, Earl of Northampton. He also gave it two hides of land in the adjoing manor of Stotesbury (Stuchbury).
Successive generations of lords then gave further gifts of land, tithes and property. Thus by 1290 the St. Andrew's Manor was a complete entity, with its own lord (the Prior), its manor courts and its privileges. The Cluniac cell at Sulgrave probably had at the most four monks, their task being to provide food for the mother house in Northampton, using much local lay labour.
The Priors visited the manor in person at least twice a year. There could have been a room in the manor buildings where manorial business would have been conducted. Jeremiah Henn, the earliest historian of Sulgrave (1789), states that these buildings stood in a sequestered situation near the former church, five or six hundred yards north west of the present church, where there was an ancient grange belonging to the priory of St. Andrew.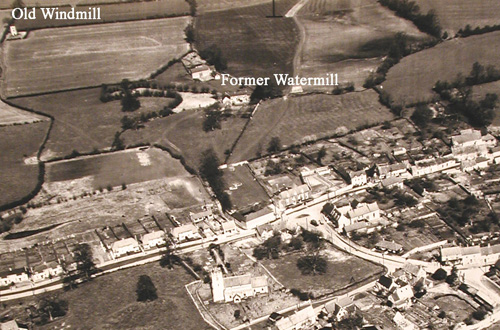 Aerial photographs taken in 1949 by Cambridge University clearly show the outline of the buildings and the surrounding walls as crop marks. They are in the field between the present windmill and watermill. In 1976, the local farmer ploughed up this field and brought up a large stone, too heavy for his forktruck to move. The two fields above the site are known as Little and Big Deadmans and even today occasionally bones are brought up during ploughing. This suggests the burial ground of the old grange and church was located here. Bridges indeed states that in 1724 'midway between Culworth and this town (Sulgrave) is about an acre of ground fenced in with a hedge called the Old Churchyard, where the church is supposed to have stood' (History and Antiquities of Northamptonshire 1791)