A CHRISTMAS MEMORY OF TRAVEL IN NORTHAMPTONSHIRE FIFTY YEARS AGO.
(Home)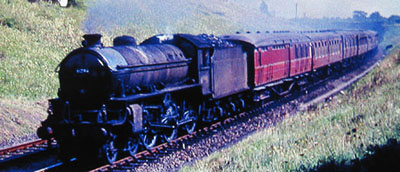 A train of the type Peter travelled on
approaching Woodford Halse.
(Copyright: Ron Fisher. See: http://ronfisher.fotopic.net)
Peter Mackness has sent the following nostalgic account of travel in this area during a very cold Christmas almost fifty years ago:
A correspondent on the Great Central Society internet forum (knowing that I have many memories of travel on the Great Central line) asked me the following: "As we are heading towards Christmas and New Year, do you have any memories of Nottingham Victoria Station during the Christmas and New Year festivities ?" After some thought, and with the aid of a diary, I recalled this seasonal journey:
Nottingham Victoria - A Bygone Christmas Journey.......
Christmas Eve 1959 was bitterly cold. I was about to travel to Hampshire for the holiday. It wasn't foggy but there was a freezing mist. I was sliding on Milton Street's flagstone pavement as I made my way to 'the Vic' to catch the 6.20pm for Marylebone. The forecourt was as busy as usual. The Booking Hall always had brighter glow in December. Standing all of 15 feet tall, between the hydraulic lift and the ticket windows, was the brightly lit green tree and collecting boxes for what then was called the "railway orphans' home". I stood in line for my turn at the ticket window for a period return ticket to Reading where I was to be met by car for the remainder of my journey.
I had my ticket 'nipped' and made my way down the slope to the steps for platform 7 where already, many people, suitcases, and barrows of parcels were strung out along the platform in the cold night air. The B1 and coaches drew up and I was glad to find a warm compartment. Soon we were away. In a swirl of white smoke, over the points, under Parliament Street bridge, past the dimly lit South Box and through Thurland Street tunnel, accelerating, high above Broad Marsh, the Midland Station and out across the river Trent.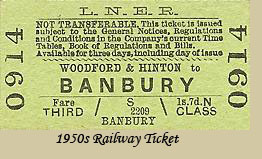 My journey took me as far as Woodford Halse where I left the London train. It was 7.40pm. About half a dozen people got off to await the tank engine and three coaches which would take us to Banbury. On the platform we were all well wrapped-up with thick coats, scarves and gloves and surrounded by bags, cases and parcels. The platform was white with frost, the sky clear, and the cheerful station staff busy with parcels. It was so cold we were stamping our feet as we paced up and down the platform, looking out at the cosy lights of nearby Hinton village and hearing the sounds of engines being 'put to bed' for Christmas at Woodford engine shed.
Remembering that I had a half bottle of Yates's Australian red wine in my coat pocket, I shared the contents with a companion from Nottingham on his way to Winchester for Christmas. Finally the Banbury branch train arrived. A handful got off, laden with last minute shopping from Banbury. We were all keen to be on our way. The coach compartment was barely warm. We had another warming swig from my bottle and both of us contemplated another wait in the cold at Banbury for our Reading connection.
It had started to snow. As the guard blew the 'right-away' and we headed south towards Culworth Junction and the steady descent to Banbury in the swirling snow this Christmas Eve, I had absolutely no idea that, 30 years later, I would be living just a few miles from that memorable, once busy, but now silent, Great Central junction that was Woodford Halse.
With best wishes for Christmas and 2009,
Peter Mackness